Who Am I?
I have worked in horticulture for the past 30 years since leaving school. I grew up in a family of gardeners, so I learnt the value and good taste of home grown food from an early age. My career has been varied, covering many aspects of horticulture, starting with training with the National Trust for Scotland at Inveresk Gardens. I then went on to study at Threave School of Gardening near Castle Douglas, this 2 year course resulted in a Diploma in Horticulture and various other qualifications including the RHS Certificate in Horticulture.
After leaving college I worked at Dougal Philip's Walled Garden centre working in the gardens and garden centre. From here I moved to a 14 acre private estate near Aberdour in Fife, there at The Murrel I started as assistant gardener before becoming head gardener. I managed the woodland gardens, water gardens, rose gardens, a walled garden, rockery and vegetable garden ranged around a house designed by a student of Edward Lutyens in his style. After a short break to have my eldest son I became head gardener at Annet House museum in Linlithgow where I worked for 7 years. I was given the remit of designing the gardens to reflect plants and gardening in Scotland from the 1500's onwards. This was a great combination of my interest in Scottish history with plants and gardens, developing fruit beds, herb and vegetable potagers, a cutting garden and writing a small book on the garden and it's plants.
From Annet house I moved to Binny Plants doing nursery work while my children were young to eventually becoming head gardener running the gardens and with responsibilities in helping run the nursery and working on show stands. I worked there for 12 years until November 2014 when I decided it was time for a change. I made decision to take a year out and see where I wanted go and what I wanted to do in life. This, it turned out was Quercus Garden Plants!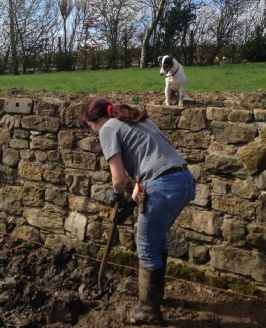 Even experienced gardeners need supervision at times!
In early spring 2015 we were given the chance to buy Quercus Garden Plants and here we are. We will continue to grow and sell the range of perennials on the stock list and add in our own favourites and ideas as we develop the nursery. These plants are well adapted and hardy for Scotland's gardens.
Within the grounds we have a huge opportunity to develop gardens on three terraces that wrap around the cafe of Whitmuir. This gives us a fantastic shop window and a chance to create and develop interesting and innovative gardens that display the plants we sell; old favourites, unusual and tough herbaceous perennials, native plants, plants that encourage wild life and insects and that have many uses in the home and kitchen.
Already we have created a wild life garden, native borders, a stream garden, a herb garden, scented garden and mixed borders to exhibit what can grow in these conditions and that visitors and customers can easily re-create in their own gardens.
All contents and photographs © Rona Dodds, unauthorised reproduction & use of these images is strictly forbidden