As well as plants we also sell other items that fit in with our vision of Quercus: Recycled, vintage, natural and quirky.
All these items are available in the nursery and will vary depending on availability. We love visiting antique shops and reclamation yards to find interesting items to use in the nursery or to plant up and sell. We enjoy giving customers ideas to use in their own garden that are not expensive and easy to do.
Over time we also plan to stock a range of outdoor pots, compost, garden sundries. and gifts. Items will also vary through the seasons with bulbs for planting in autumn, spring and bedding.
Large embossed planter with rope handles £16.50
Tall plant support £14.95
Small embossed buckets £6.50
Zinc planters with rope handles, 4.95, 5.95, 6.95
Heart label or seed packet holders holders £4.95
All contents and photographs © Rona Dodds, unauthorised reproduction & use of these images is strictly forbidden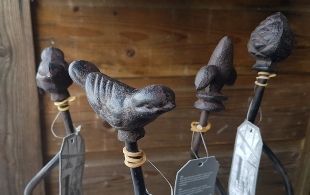 Metal plant supports, £13.50
Terracotta and glazed pots
Twin galvanised pot, perfect for bulbs or indoor £14.95
Aged terracotta pot in basket, £6.60
Mother hen, £44.95, Rooster, £49.95
4 Aged terracotta pot in basket, £22.50
Aged terracotta pot set£19.95
Embossed Bucket with handle, 9.95 and Zinc planters in wooden tray
Ceramic flower pots, £4.95, £7.50, £15.50